Our specialist team carry out work on all types of industrial chimneys including steel, brick, stone and concrete chimneys.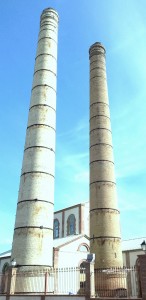 Our industrial chimney services include:
The carrying out of inspections and condition surveys and the supplying of detailed reports accompanied by colour photographs and DVD recordings of our findings.
Concrete repairs using cement and epoxy resin materials.
Design, installation, maintenance and testing of lightning protection systems to BS: 62305.
Painting and corrosion prevention.
Repairs to fractures and jointing material.
Surface preparation and application of coating materials.
Replacement of windshield and liner sections on steel chimneys.
Ultrasonic metal thickness testing.
Maintenance, repair and replacement of guy wires.
Installation and repair of cladding and insulation.
High pressure water cleaning.
Demolition and dismantling of all types of redundant industrial chimneys and tall structures.
WE OFFER A NATIONWIDE SERVICE